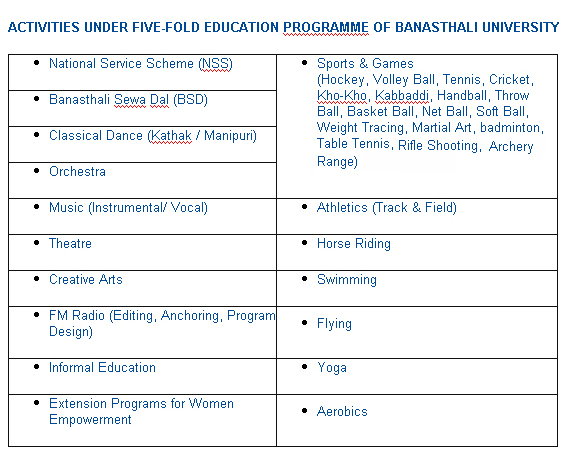 At the post-graduate level the Banasthali Vidyapith has taken up the task of opening up new and emerging areas of knowledge to women, to give them a competitive edge in their professional life. For example, post-graduate courses in Computer Science (covering both theoretical and application aspects), Operations Research, Electronics, Biotechnology and Management were started in past ten to fifteen years. Recently new courses in the emerging areas have been started such as MBA, M.Tech. (Remote Sensing), M.Tech. (VLSI Design), M.Sc. (Bio-Informatics), M.Pharm. (Pharmaceutical Chemistry), M.Sc. (Applied Microbiology and Biotechnology) and B.Design. It may not be an overstatement to say that in the past twenty years the Banasthali Vidyapith has found for itself a respectable place in the community of Higher Education Institutions.
Banasthali has remodeled all its PG programmes introducing semester scheme to provide a great degree of inter-disciplinary approach in the teaching-learning within the constituent disciplines of a faculty e.g. Mathematics, Computer Science, Electronics and Statistics.

This model has been replicated in other disciplines as well. From 2004 all Social Science, Humanities and Home Science Post-graduate programmes are being run as semester courses. The programmes have been structured in such a fashion that the modular courses being offered provide a lot of flexibility in as far as taking relevant courses from the related discipline. Fine Arts programmes are less attuned to this model but a semester system would provide ample scope for allowing large number of electives to suit the creative pursuit of the student.
It is a well proven concept in Education that semester scheme of examination results in better quality of teaching-learning and hence Banasthali has taken lead in introducing semester scheme in all its under-graduate programmes.

Banasthali Vidyapith has also ushered into Engineering and Technology education by starting B.Tech. Programs. Starting of B.Tech. programs has given completeness to the Science & Technology education in Banasthali Vidyapith providing opportunities to women to attain higher technical education. Bachelor of Technology course is run in six disciplines, Computer Science & Electronics (CSE), Electronics & Communication (EC), Electronics & Instrumentation (EI), Information Technology (IT), Chemical Engineering (CE), Bio-Technology (BT) and Bachelor of Pharmacy are also run.
In addition to constantly upgrading and strengthening its academic programme, Banasthali Vidyapith is conscious of keeping right balance between its educational objectives and the market forces commercializing the education.