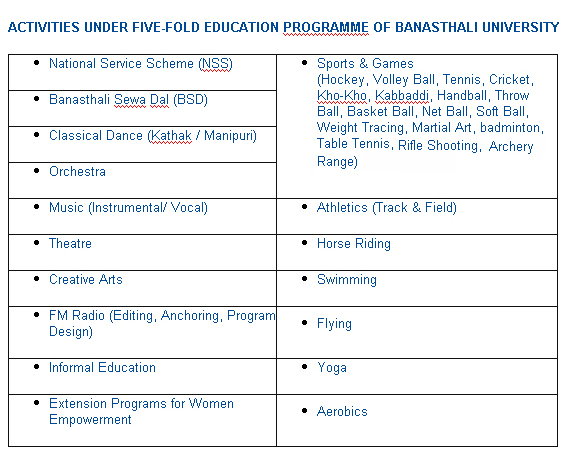 At the post-graduate level the Banasthali Vidyapith has taken up the task of opening up new and emerging areas of knowledge to women, to give them a competitive edge in their professional life. For example, post-graduate courses in Computer Science (covering both theoretical and application aspects), Operations Research, Electronics, Biotechnology and Management were started in past ten to fifteen years. Recently new courses in the emerging areas have been started such as MBA, M.Tech. (Remote Sensing), M.Tech. (VLSI Design), M.Sc. (Bio-Informatics), M.Pharm. (Pharmaceutical Chemistry), M.Sc. (Applied Microbiology and Biotechnology) and B.Design. It may not be an overstatement to say that in the past twenty years the Banasthali Vidyapith has found for itself a respectable place in the community of Higher Education Institutions.
Banasthali has remodeled all its PG programmes introducing semester scheme to provide a great degree of inter-disciplinary approach in the teaching-learning within the constituent disciplines of a faculty e.g. Mathematics, Computer Science, Electronics and Statistics.

This model has been replicated in other disciplines as well. From 2004 all Social Science, Humanities and Home Science Post-graduate programmes are being run as semester courses. The programmes have been structured in such a fashion that the modular courses being offered provide a lot of flexibility in as far as taking relevant courses from the related discipline. Fine Arts programmes are less attuned to this model but a semester system would provide ample scope for allowing large number of electives to suit the creative pursuit of the student.
It is a well proven concept in Education that semester scheme of examination results in better quality of teaching-learning and hence Banasthali has taken lead in introducing semester scheme in all its under-graduate programmes.

Banasthali Vidyapith has also ushered into Engineering and Technology education by starting B.Tech. Programs. Starting of B.Tech. programs has given completeness to the Science & Technology education in Banasthali Vidyapith providing opportunities to women to attain higher technical education. Bachelor of Technology course is run in six disciplines, Computer Science & Electronics (CSE), Electronics & Communication (EC), Electronics & Instrumentation (EI), Information Technology (IT), Chemical Engineering (CE), Bio-Technology (BT) and Bachelor of Pharmacy are also run.
In addition to constantly upgrading and strengthening its academic programme, Banasthali Vidyapith is conscious of keeping right balance between its educational objectives and the market forces commercializing the education.
Career Counselling & Placement Cell
The Career Counseling and Placement Cell of various departments helps the students in their career planning.
It provides information on employment trends, projects development, recruitment methods, occupational reviews, assistance in securing part-time/full-time employment/self-employment, and help in seeking admissions in various institutions and universities. The Cell conducts surveys, arranges and organizes training programmes and workshops for development of personality and communication skills to face interviews and other challenges in their career.
Soft Skill Development:
The Vidyapith helps students to prepare for placements by providing a sound educational pedagogy based on the philosophy of 'Panchmukhi Shiksha', blending all aspects of a student's life viz Practical, Intellectual, Physical, Aesthetic and Moral. Along with continuous sessions these aspects help the students in developing personality as well as soft skills, which helps them in securing jobs and internships.
Soft skills play a vital role for a successful career development as well as daily life. Students need to present themselves in the best possible way to the world. In line with its philosophy of developing women leadres in all walks of life, Banasthali Vidyapith carries activities to improve soft skills so as to ready the students for benefiting from opportunities and facing the challenges once they step into jobs and ventures.
The Vidyapith has organized several specific workshops focusing on communication skills, human relationship skills etc. The Placement Cells conduct such workshops in almost all departments in general and the departments running professional course in particular.
Competitive Examinations
Since its inception in 2012 the center has been guiding students to choose the right career path. The center facilitates classes for the students aspiring to compete for various competitive examinations such as Indian Civil Services, Bank PO, National Eligibility Test/ State Lecturers Eligibility Test, GATE, GRE etc.
Certificate and diploma courses to develop skills in English and other foreign languages are also offered. Vocational courses in textile and crafts, radio jockey, broadcast, editing, etc. are also offered. Classes are conducted in the evening to enable as many students as possible to avail themselves of this facility. Teachers are usually drawn from different departments of the university and regular guest sessions are also organized to prepare the student for various competitive examinations.