---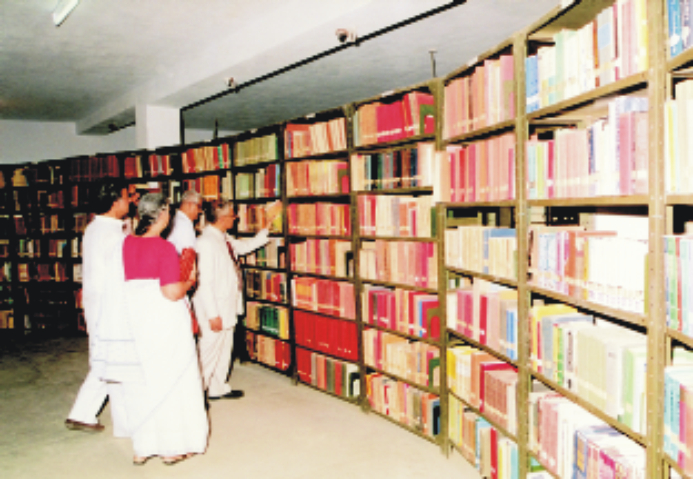 Research has been an integral component of the higher education in Banasthali even before its attainment of Deemed University status. However, initially it was mainly in the form of Doctoral studies. Over the past ten years, the research efforts have expanded to include sponsored research and consultancy projects in various disciplines. A noteworthy development in this direction has been the recent sanction of a Centre for Research in Mathematical Sciences to Banasthali University by the department of Science & Technology, Government of India. Such Centres are few, probably one or two in the country. Establishment of the centre is definitly going to boost the research environment not only of Banasthali but in the entire region of the state.Few other worth mentioning recent projects are:
ColL - Net "IT for Socioeconomic Development of Rajasthan" - a Ministry of Information Technology, GOI project in the Department of Computer Science & Electronics, AIM & ACT (2002 - 2005)


The Distribution of V - ATPase and V - PPase in Plants growing as Natural Inhabitants in the Semi Arid Region of North West India" a DST - DAAD project in the Department of Bioscience and Biotechnology (2001 - 2004)


DAAD (German Academic Exchange Service) Equipment Grant, approx, Rs. 12 lacs, under "DST-DAAD equipment grant programme for heigher education and comparable scientific research institutions in developing countries" in the Department of Bioscience and Biotechnology (2004).


'Gyanaudyog - IT Culture Development & Women Empowerment through Localised Home Entrepreneurship, Ministry of Communication & Information Technology, GOI sponsored project, (2004 - 05) and 'Gyanjyoti' a similar project from DoIT & C, Goverment of Rajasthan in two phases in 2005 and 2006.


Women Study and Research Centre: University Grants Commission, Ministry of Human Resource Development, Goverment of India, 2004 - 2007.


Evaluation of English to Indian Languages Machine Translation, Ministry of Communication & Information Technology, Goverment of India (2006 - 08).
Encouraging and sustaining innovation and research in the regular academics of the institution required a sturdy administrative courage and strong concern for academic excellence and the Banasthali University has continuously evinced it through its functioning. The Central Library of Banasthali is very rich in its contents to facilitate research. Internet access is provided to the library by way of Campus Networking and getting connected to INFLIBNET. Access to more than 9300 full text online journals is also made available under the UGC INFONET scheme. In addition there are several department libraries catering to the needs of the respective departments linked through Banasthali's Campus network.
Extension activities can be seen in the various means of disseminating the experiences and research outputs of staff and students. Banasthali provides platform in the form of organizing regional and national level workshops, seminars, conferences and symposia in various disciplines. Similarly the faculty members are encouraged and given full support to participate in various National and International fora. Besides these, there are several other ways in which expertise available is extended to personnel in and outside the Banasthali University. For example, workshop camps for training in Fresco painting are annually held during summers on campus wherein very eminent painters also participate.
The research findings and project outcomes of the staff and students always find a fair place in various standard publications in the form of books, reports, monographs and articles in journals and periodicals. Various newsletters are also brought out by different departments from time to time to keep the members of the Banasthali abreast with its activities and achievements.