Intramural Programmes
Intramural activities consist of all the sport and fitness activities carried on inside the campus of routine. The morning fitness programme for the masses, which starts at 6.00 a.m. in summer & 6.30 a.m. in winter includes Yogasans, Marshal Arts, Conditioning and Fitness exercise, and Aerobics. All these activities are carried out simultaneously at different stations at Vidula Maidan . Students join various activities according to their interest & choice.
The evening programme at Vidula Maidan starts at 4.30 pm. which includes match practice for various games like Basketball, Volleyball, Athletics, Hockey, Football, Tennis, Marshal Arts, Kho-Kho, Kabaddi, Handball, Netball, Softball, Archery, Cricket & Swimming (Seasonal). Match Practice sessions are for the preparation of the teams for extramural competitions.
Yoga and Meditation:

In modern stressful life Yoga and meditation are becoming critically essential for health and sanity. It is also found immensely beneficial for concentration and memory.
Therefore, Banasthali Vidypith in line with its philosophy of 'पंचमुखी शिक्षा'(Five Fold Education) provides students with Yoga and meditation sessions, under the supervision of trained Yoga teachers. These sessions are conducted throughout the year. The morning fitness programme for the masses, which starts at 6.00 a.m. in summer & 6.30 p.m. in winter includes Yogasans, Marshal Arts, Conditioning and Fitness exercise, and Aerobics.

At times Meditation sessions are also organized in the departments. All the Yoga and meditation activities are organized by the Department of Physical Education.

Games and Sports:
Inter-faculty/ Inter house competitions are few of the important events in the intramural programme. The intramural programme is formally opened every year with a festive look. It is represented by all the faculties of the Vidyapith and houses of the Higher Secondary and Primary schools. All the teams assemble at Vidula Maidan representing their faculty/ houses projecting some contemporary political , cultural & social issues in a colorful procession.
With the opening ceremony of intramurals, the year long inter-faculty/ house competition takes off. The intramural competitions are organized in approximately 15-20 games according to the time and facilities available. These competitions are organized through out the session . A formal valedictory function is organized to declare the winner faculty/ house of year and to conclude the year long intramural programme.
Mass Demonstrations : Mass Demonstrations of indigenous skills such as Sword Fighting, Yogasanas, Javelin, Lezium, Lathi etc. are also taught and performed on various occasions.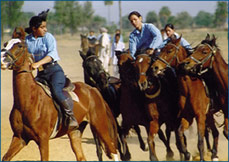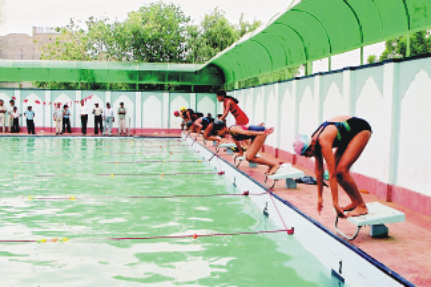 Horse Riding: Horse Riding is a regular activity for the students in the campus. It is taught to all the interested students in the Vidyapith. Our riders participate in National Equestrain Competitions also. The riders of Banasthali have had been the silver medalists in 50 k.m. international endurance run competition.
Swimming: Swimming is a seasonal activity. This facility is also available to all the students of Banasthali. More than 50 % of the students learn swimming in the campus every year. The swimmers of Banasthali also participate in university, state and national level swimming competitions.
Banasthali Seva Dal: Banasthali Seva Dal has been introduced in the Vidyapith to train the students in March past, Ceremonial Parade and Rifle Shooting. Banasthali Seva Dal also runs the programme of girl guide, which has been registered with "Bharat Scouts and Guides" in the year 1988-89. It organizes the camps for girls guides and the eligible guides are selected to take part in state and national level camps. A Number of students from the Vidyapith have been honoured with "Rashtrapati Award". Two of our guides have been selected to attend the international events of the World Association of Girl Guides and Girl Scouts at Pune (WAGGGS).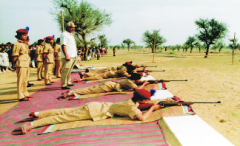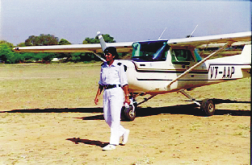 Shooting: Banasthali Vidyapith has a Rifle Club named, Banasthali Vidyapith Rifle Club. It is the member of National Rifle Association of India. We have a shooting range where training is imparted to the students for the shooting skills in accordance with the various competitions/ programmes to Rifle Association of India.
Flying: Flying has been an inseparable part of Banasthali's broad based learning programme since early 1960's. The Flying Club (BVGFC) has got it's renewal of approval from DGCA in Dec'08 for imparting flying training upto CPL and Instructuer level. It has one Cessna -172 and two Cessna -152 aircrafts in the existing fleet and has a private licenced airfield of 50, 191, 418 sq. meters, dedicated only for the training purpose, facilitates traffic less exercise in air. The runway (09/27) length of 3600 ft. and elevation of 1010 ft. are adequate for exercising. The Vidyapith owns a hangar which is 9,000 sq. ft., which can accommodate more than a dozen aircrafts. It has got all latest precision tools and equipments and the organization is approved by the DGCA. It maintains a separate battery shop and workshop. There is a nice and comfortable lounge. The club also has besides a briefing room, some modern classrooms with excellent facilities. There is a team of skilled and highly motivated, professionally qualified instructors, to train the professionals.
Various teams of Banasthali Vidyapith participate in various Inter University, Open and Women festival competitions every year.
Inter University Competitions: The Vidyapith teams participate in various Inter University competitions e.g. Basketball, Hockey, Badminton, Table tennis, Kho-Kho, Handball and Shooting, Archery, Swimming, Chess, Cricket, Tennis, Judo, Volleyball.
Open Tournaments: The participation in open tournament of the University at District, State and National level is in following games and sports : Basketball, Hockey, Kho-kho and Kabbadi, Archery, Cricket, Volleyball, Marshal Arts, Tennis.
Women Festival Competitions: Participation of the Vidyapith in the women festival competition is also very regular. The games in which the Vidyapith takes part are Basketball, Hockey, tennis, Kho-Kho and Kabbadi.
Organization of Tournaments: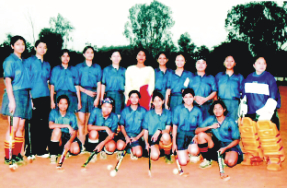 Banasthali Vidyapith has been organizing various inter-university tournaments since its inception. The Vidyapith has organized All India Inter University and Southwest Zone Inter University Championships in various games e.g. Hockey, Basketball, Shooting and Tennis. In the year 2001-2002 AIU sponsored Inter University South-West-Zone (Women) Basketball Championship was organized. Recently in February 2006, Banasthali organized the National Inter University Women Hockey Tournament. Apart from Inter-university tournaments, Rajasthan State Senior and Junior Women Hockey Championship, District level. An Invitation Cricket Tournament was organized recently, teams from Delhi, Lucknow and Ajmer participated in it. Women's Festival Competitions are also organized at regular intervals.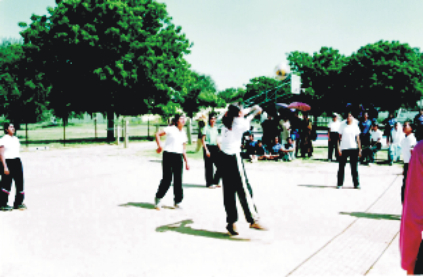 Infrastructure: The Vidyapith has developed infrastructure for physical education over the past seven decades. At present, there are adequate and varied resources available to sustain the various activities on campus. Significant among them are :
I. Vidula Maidan: Basket Ball courts (two) one court with flood lights, Tennis courts (two) one court with flood lights, Hockey field (one), Four Hundred meters cinder track with Eight lanes, Kho-Kho courts (two), Kabbadi courts (two) Volley Ball Court (one) Throw Ball court (one) Hand Ball Court (one) Facility for field events (shot) discus, Javlin, High Jump, Long Jump etc.), Archery Range, Netball, Softball, Cricket Pitch, Floodlit, Basketball Stadium and Tennis Stadium.
II. Lakshmi Bai Maidan: Field for mass demonstrations, Field for march - past and ceremonial parade and cricket field.
III. Swimming Pool
IV. Horseriding field
V. Air Strip
VI. Shooting Range
VII. Shakuntalam Cricket field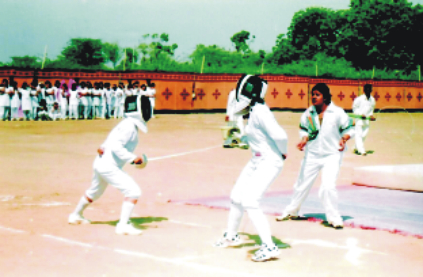 Play Field (Indoors) Table Tennis Hall (Gyan Mandir), Partially enclosed Badminton Court (Gyan Mandir), Multigym (16 Stations) installed at Vidula Maidan.