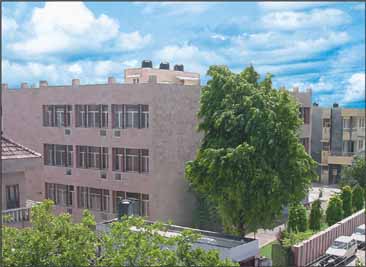 There never has been a better time to study Information Technology and Management than now. India's eminence in the field is being recognized all over the world and India has been able to overcome the difficult situation that it was in, in early 1990's, largely on the stenghths of these two sectors only. The future looks even brighter.
Banasthali understood its increased responsbilities and planned to broadbase its activities in these two areas. The University started its campus at Jaipur in April 2001. Initially only courses in Computer Science and IT were introduced but later Management education was also added.
Jaipur Campus is located at a very central location in C-Scheme near Statue Circle. The campus has all the amenities for developing the personal, social and academic skills of its students. It has all modern facilities, IT infrastructure and 1 Mbps Internet bandwidth.

The Centre provides a very limited Hostel facility.
A Complete list of courses offered at Jaipur Campus is as under
Contact:
Jaipur Campus,
Banasthali University,
C-62, Sarojini Marg,
C-Scheme, Jaipur (Raj.)- 302001
Phone: 0141-5118721/22, 2361500