Banasthali University has been a leading institution in the field of women education since 1935. The institution has an area extending to 850 acres having numerous buildings of different statures and sizes, housing various academic and administrative blocks.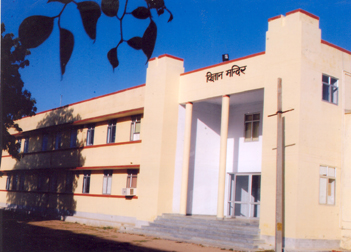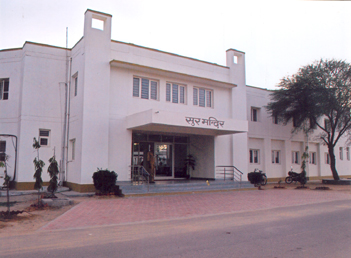 The campus has been broadly divided into the University division, School division and the residential blocks and is capable of fulfilling the basic requirements of its inhabitants.
CAMPUS AMENITIES:

a) Accommodation
Banasthali University is a residential institution. There are 29 hostels with a capacity of housing 110 to 438 students. The network and Internet access has been extended to all hostels providing the students unlimited opportunities to unleash the power of the Internet.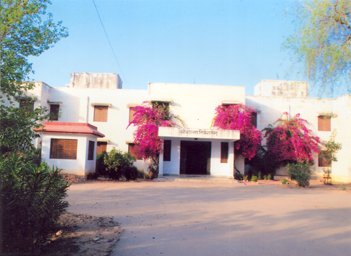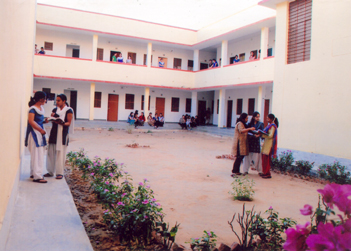 There are more than 400 fully equipped staff quarters of different types, ranging from one - storeyed houses to multi -storeyed modern apartments and one Working Women's Hostel with 113 seats.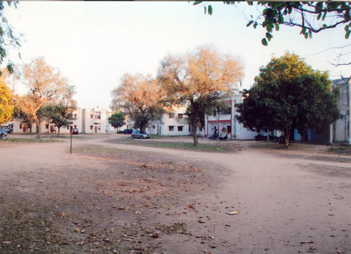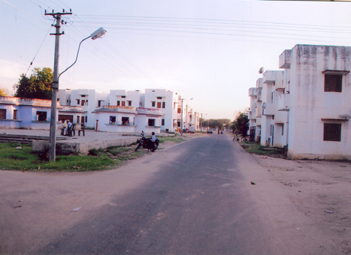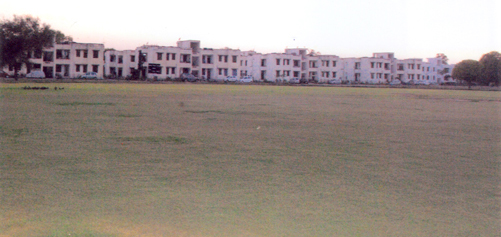 b) Sports
The campus has quality infrastructure for games and sports programmes. The Laxmi Bai maidan (26,690 sq. meters) is used for activities such as parade and annual fairs. It also has a stage and projection room for regular cultural programmes and film shows .. The Vidula Maidan (41,950 sq. meters) has fields for games such as hockey, volleyball, basket ball, tennis, yoga, martial arts and mass physical display activities. Adequate space for indoor games such as badminton and table tennis is also available. The swimming pool is open for students, staff members and their families Another unique activity carried on since long is horse riding for which there are 41 horses and a field called 'Veer Bala Maidan' (25,390 sq. meters). The infrastructure for games and sports is continuously upgraded in terms of quality and facilities.The Vidyapith has a Cricket Ground inaugurated as "Shakuntlam Play Ground" on January 26, 2008 by the President, Banasthali University.
c) Air Strip
There is a licensed air strip of 50,191,418 sq. meters in the Banasthali University which is used for training the students in gliding and flying. This has been one of the activities introduced as early as 1960 even before Banasthali got the University status. A regular flying club, BVGFC (Banasthali Vidyapith Gliding and Flying Club) has started on January 9, 2009.
d) Central Library
In the Central Library access to Internet is provided via around 8 Mbps Internet is provided via different modes such as BSNL leased line, VSNL leased line . The library has been using the LIBSYS, an Integrated Library Management software package with all the modules for the library housekeeping operations. The library online Catalogue (OPAC) has more than 1.60 lakhs records of books (Bibliographic Information) and 13,500 back volumes of periodicals. The library currently receives over 600 periodical titles of which 550 are subscribed while the remaining titles are received as gratis. About 9000 titles are accessible online under UGC-INFONET Consortia.
e) FM Radio Station-
A 'Community FM Radio Station' known as 'Radio Banasthali' broadcasts educational and entertainment programmes locally recorded by the students and staff of Banasthali. It operates at 90.4 MHz and serves the campus and the community within a radius of 30 km around Banasthali.
f) Hospital
The Banasthali University has its own hospital, "Apaji Arogya Mandir" with 60 beds, qualified doctors and other hospital staff. The hospital works round the clock throughout the year.
g) Guest House-
Round the year there are guests in campus on official assignments .The parents and guardians of the students and visitors are provided accommodation in the well- maintained and fully- furnished university guest house. The staff here works on the principle of ATITHI DEVO BHAVAH.
h) Transport
Minibuses are run as shuttle service at the interval of 15 minutes. Bus is also provided to the Banasthali-Newai Railway station 7 kms. away from the campus. The Rajasthan Roadways provides regular to and fro bus service between Jaipur and the campus via Newai almost every hour from 6.00 am to 6.00 pm.
i) IT infrastructure
The IT infrastructure at Banasthali is comparable to any world class university. Apart from the state of the art Servers and Workstations at Apaji institute of Mathematics & Applied Computer Technology, every department and office of Banasthali has adequate computing facilities along with high bandwidth Internet access which is provided through a fibre optic Campus Network. Artech-Dalmia I.T. Center has increased this IT infrastructure manyfold. The center has been constructed with partial financial assistance from Shri M.H. Dalmia and Artech LTD. The Centre has smart class rooms and high end computing laboratories for Computer Aided Design, Scientific Computing, Microelectronics & VLSI design, and Computational Biology.

Besides these facilities, the following amenities are available at the campus:
a. UCO Bank, Co-operative Bank, State Bank of India, UCO Bank ATM, SBI ATM, ICICI Bank ATM
b. Post office with a facility of Speed Post
c. BSNL Electronic Exchange
d. Courier Service
e. Fully equipped shopping complexes and vegetable marts