Banasthali is a fully residential women's university, which offers an integrated education system extending from the primary education up to Ph.D. level.
It was on October 6, 1935 that Smt. Ratan Shastri and Pandit Hiralal Shastri founded Banasthali to fill up the vacuum caused by the sudden death of their highly talented and promising daughter Shantabai. They had high expectations that she would work for women's cause when she would grow up. But destiny ordained otherwise.

Thus, Banasthali owes its existence neither to the zeal of an educationist, nor to that of a social reformer. It is also not the creation of a Philanthropist's purse. It has arisen like the fabled phoenix from the ashes of a blossoming flower Shantabai.

Special Features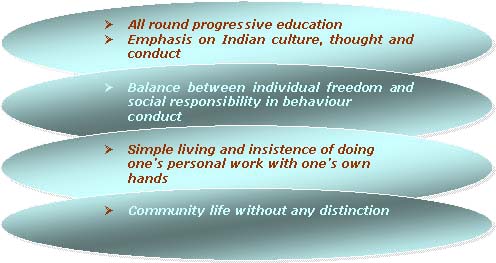 Banasthali aims at the synthesis of spiritual values and scientific achievements of the East and the West. Its educational programme is based on the concept of
five fold education (Punchmukhi Shikha)
comprising Physical, Practical, Aesthetic, Moral and Intellectual education. Its aims at developing student's integrated and balanced personality. Emphasis on Indian culture and thought characterized by simple living and khadi wearing are hallmarks of life at Banasthali.
A
ctivities
U
nder
P
anchmukhi
S
hiksha

Common all religion prayer

Art and Craft

Games and Sports, Yoga, Swimming, Horse Riding, Flying, Rifle shooting, National Service Scheme, Guiding etc.

Vocal and Instrumental classical and Folk dances

Drawing and Painting. Fresco, Tie & Dye, Block & Screen Printing

Students' Parliament

Community Services



Campus

It is a place where perfect ambience and adequate amenities are provided to build both career and character through which one can translate one's dreams into reality. It has an auditorium for Art and culture, grounds and halls for outdoor and indoor games, market for shopping, Banks, ATM, Telephone Exchange, Post Office and Mobile Towers for communication, Travel Agency and Courier Service, Hospital and Medical Store, Shuttle and Public Transport are also available.
A very rich Central Library adds to the academic ambience of the campus. The library is accessible from anywhere through a gigabit campus network and online digital library can be accessed through the high bandwidth Internet connectivity in the campus.
Liberty with security is the main aim reflecting in the modus operandi of Campus life and 'Simple living and High thinking' is the modus vivendi. Life here in Banasthali University is free from all hazards and very conductive in the development of overall personality of the student.